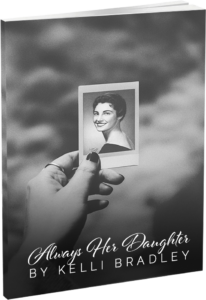 Always Her Daughter is a reflection of years spent caring for my family and others.
The leaves were blowing around my feet, and the wind whistled through the air, but despite the beautiful day my mom was so weak and ill, she could barely stand. I was at my wit's end, feeling discouraged and like I don't know what to do anymore.
In the next minute, I was thinking why are you complaining? Mom is going through so much, get it together and figure it out. It was on that very day that my mom said to me, "Honey you need to write a book, you can not make this stuff up."
"This is a book everyone needs to have."
– Kim O'Hara, A Story Inside
Part Memoir,
Part Caregiver Manual
Learn from a trusted expert with over twenty years of experience in senior care
Hear real-life tips and stories so you don't have to learn the hard way
Find common ground and practical advice
Connect with stories similar to your own
Over the years I have learned my lessons the hard way.
I will share those lessons with you. Always Her Daughter is the resource I wish I had when I was caring for my family. I know your struggles, and I want to help you avoid the pitfalls of caregiving. I don't know many people who aspire to care for their aging parents. Time goes so fast, one day you wake up and realize the person who was your hero now needs help paying her bills.
About the Author
Kelli is a native Oregonian who has dedicated the last twenty years of her life both personally and professionally to senior care. Kelli's mom was diagnosed with Diabetes many years ago, and she suffered multiple complications ranging from blindness to kidney failure. It was during that time Kelli realized they were not the only family struggling to find solutions for care.  That realization led her to create and run one of the leading in-home care companies. Over the next decade, Kelli served hundreds of families, helping them to navigate the ins and outs of caring for an aging family member.