So It's Time for "The Talk"
As we age, a role reversal occurs between parents and children. But how do you approach the person who cared for you your whole life about caring for them?
Do you remember the moment one of your parents decided to have "the talk" with you? Your mother sitting you down on your hot pink rug to discuss the birds and the bees? No? You too have long ago blocked that memory from your adolescence? Well, now it may be time to have a completely different "talk" about what the future holds for your family. And topics such as "What happens if one of your parents is incapacitated?" isn't an easy one.
Having "The Talk" with your parents can be quite a daunting task. But as with most things, there will never be a perfect time. And this is a conversation that you should consider approaching sooner rather than later. Discussing possible futures with your family members now can help cut down on future problems.
Your parents' wishes certainly need to play a part in future plans, but equally important is their health and safety.
1. Timing is Everything
Try and find a time where there are no distractions and your person is at their best.
2. Create Neutral Ground
Remember your loved one is going through a lot of changes and loss, so approach with care.
3. Ask Don't Tell
Reassure them you want to fulfill their wishes and just do what's best for them.
4. Leave with a Plan
This will create next steps. Even if you weren't able to get to everything on your list, you can make a plan to get to it in the future.
5. Reward Yourselves
After the conversation do something fun together as a family. Go out to dinner, watch a movie, play a game, do something you all enjoy.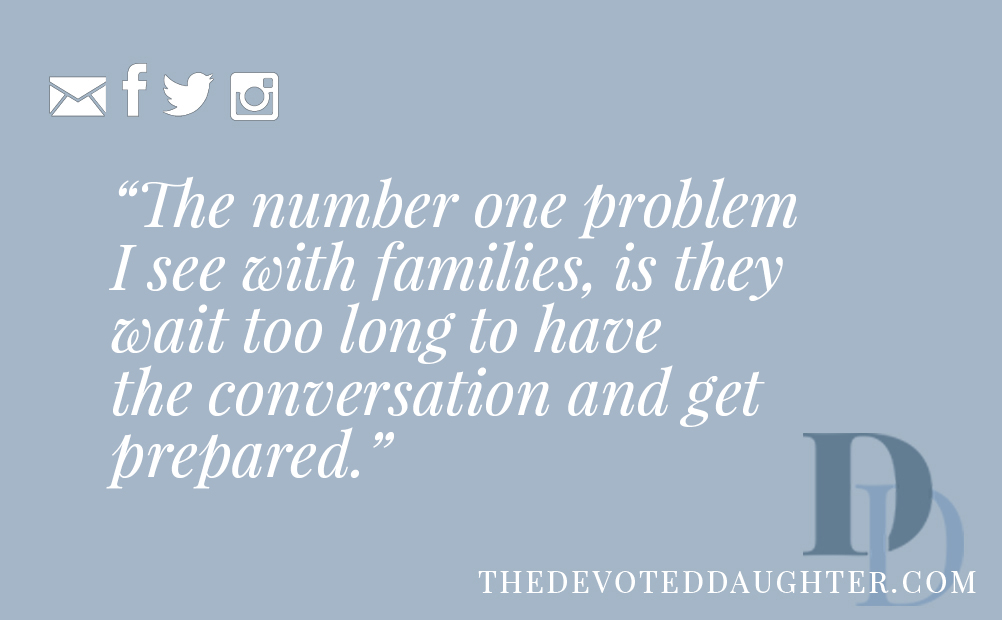 Keep in mind what is realistic, but also their wishes. This is a fine line to walk. Things to consider include social isolation, eyesight, home safety hazards, nutrition, and medication management issues. For many people, this is a time of change and loss. They may not be able to drive in the near future, friends have passed away, maybe they have recently retired. Without even realizing what has happened things are changing. Keep this in mind as you spend time with your parents and plan for the future.
If you have a list prepared, mental or physical, it certainly gives you a better chance of staying on track. Once you know what your end goal is- how are you going to get there? If all of this feels overwhelming, check out our coaching options.